Cunmiso™ Cordless Electric Hand Massager
CARE ABOUT YOUR HANDS - Wireless hand massager would be a blessing to knock down all types of symptoms of Arthritis, like wrist pain, joint pain, tingles, and carpal tunnel syndrome tendonitis, especially senior citizen. Besides, hand massager should be the perfect gift to improve blood circulation and reduce pain for a desk worker, pianist, house-worker, or a person who enjoins his hands into the relentless work. Please use 5V2A ADAPTER to charge with the TYPE C cord included.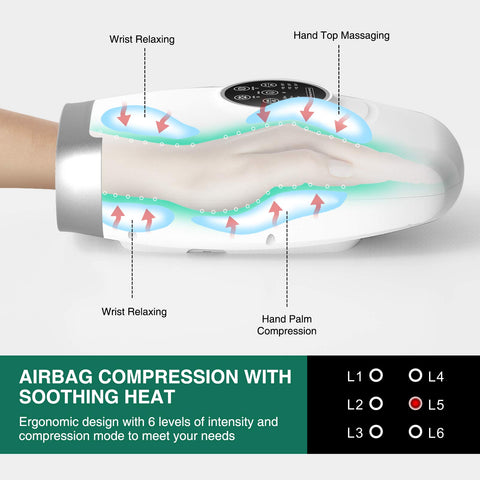 6 ADJUSTABLE MODES TO MEET YOUR NEEDS - Cordless electric hand massager is designed for providing 6 different pressure point therapy with 6 levels of intensity. A blessing for Arthritis patients with different needs. Hand massager machine offers premium shiatsu and acupoint massaging with air compression. It comes with an ergonomic design by evenly pressure distribution to the acupuncture points of the palm and wrist. Built-in 15min timer, it will turn off by itself. Enjoy the best relaxing time!
Check Video From Customers:
Your browser does not support HTML5 video.

PAMPER YOUR HANDS SAFELY WITH HEATING & VIBRATING - Wrist massager is specially designed safely for applying warm compression. No electric leakage or short circuit. Heat up to around 104°F and create pressure in every corner of your wrist and palm. The heat functionalities will await you for 5min to reach the optimum temperature. It has 2 vibrational modes so you can toggle between two and stimulate more blood circulation. Perfect size to fit everyone. A family pain reliever for hands.

PREMIUM QUALITY ENSURES 100% COMFORT - Handheld massager has brought innovation for providing amazing comfort with better inside cushions. It is soft and comfortable massager wear and you can alleviate hand's pain remarkably. Silica gel at the bottom helps to fix therapy massager without sliding. 2500mAh rechargeable battery ensures long lasting using time. Charge it ONCE and you can use FOR HOURS WITHOUT worrying about cords or outlets. Wireless design gets rid of plugging in and out.

Your browser does not support HTML5 video.

BEST GIFT & BEST SERVICE - Nearly 500 patients suffering from arthritis have TESTED the massage tool. Pain DECREASES day after day and more strength in muscles. It is recommended to use hand massager with heat for 1-2 times daily to relieve the aches and improve sleeping quality. Great gift for families, especially for the elderly. If you have any questions, please contact us at once. We'll respond quickly and meet your requirement. After you get hand massager, just enjoy the best experience!

Product details

Package Dimensions :

 

13.7 x 7.83 x 6.18 inches; 2.93 Pounds

Batteries:

 

1 Lithium-ion battery required. (included)

Date First Available:

 

July 23, 2020

Manufacturer:

 

Cunmiso