Projection Alarm Clock SR Pro
The amazing Projection Alarm Clock SR Pro, within IPX4 Wireless Remote Sensor / 4 levels of brightness display/ The optimal projection range is 3.3-10 feet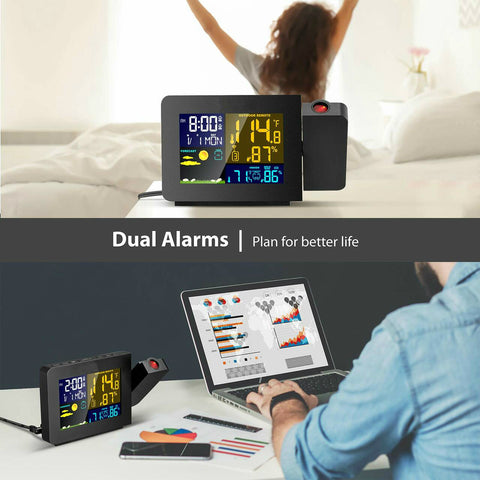 Key Features
【Large & Backlit LCD Screen】
A large colorful backlit LCD screen.

Displays time, outdoor/indoor temperature (min/max readings included), humidity (min/max readings included), weather forecast and more in clear digits.

4 levels of brightness are available for optimal vision.
【Adjustable Projection】
Projects time and temperature onto the ceiling or walls so you can tell time simply lying on the bed.

Adjust the clock projector forwards/backward, change 2 levels brightness of projection, and reverse projection in 180° to achieve maximum clarity.

The optimal projection range is 3.3-10 feet.
【IPX4 Wireless Remote Sensor】
Transmits real-time outdoor temperature, humidity, weather trends, and more index to your projection alarm clock for bedroom.

*Concrete walls, cellars, screens of electronic devices, metal doors, and other sources of signals will interfere with the transmission and lead to inaccurate temp readings.
【Auto Time Setting】
Automatically receives WWVB radio signals to calibrate time at 1:00 / 2:00 / 3:00 a.m. or after rebooting or replacing new batteries. A manual time setting is available as well.
【Dual Alarms & Snooze】
Set 2 separate alarms and choose alarms to be activated on weekdays/weekends/7 days.

Snooze function allows sleeping for extra 5-60 minutes. Alarms will last 2 minutes with increased volume to wake you up.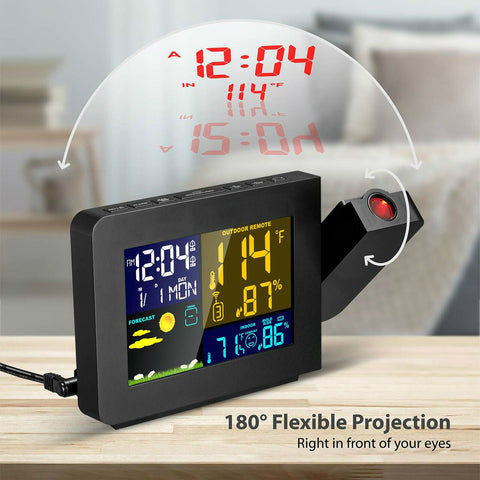 【DC Adapter & Battery Backup】
Please plug in the clock with the included DC 5V/150mA wall adapter for full functions.

A CR2032 battery (not included) can be used as backup power in case of power failure or outage.

Note: the backlit LCD screen and projection will shut off when it is powered by batteries.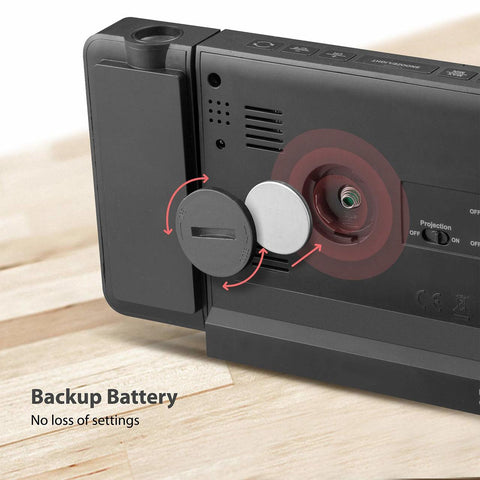 Specifications
Projection Alarm Clock SR Pro

Indoor Temperature Measurement Ranges: 14°F ~ 122°F

Outdoor Temperature Measurement Ranges: -40°F ~ 158°F

Projection Range: 3.3 - 10 feet

Time Format: 12/24 Hour

Brightness Levels of Screen: Off / Low / Medium / High

Temperature Units: °F / °C

Snooze Duration: 5-60 minutes

DC Adapter: 5V/150mA

Battery Backup: 1 x CR2032, 3V (not included, backup power for saving settings)

 
Wireless Remote Sensor 

Transmission Range: 200 feet (in open areas)

Power Supply: 2 x LR06 AA, 1.5V (not included)

RF Transmitting Frequency: 433.92 MHz