LotusMat All-Natural Linen Acupressure Mat and Pillow Set
ARE YOU READY TO ENJOY DEEP RELAXATION?
LotusMat Acupressure Mat is a daily self-care tool based on the Indian bed of nails. Contrary to popular belief, beds of nails have been used as a relaxation aid for 5,000 years. Thousands of sharp spikes apply pressure to skin and muscles supporting restful sleep, relaxation, mental clarity and well-being. Relax your mind & body in 20 minutes.
Features and Benefits
STRESS RELIEF –  Lay back and relax onto this bed of nails. The spikes trigger the release of oxytocin, commonly known as "hormone of love and serenity", instantly relieving stress and generating a feeling of calmness and well being.
PRODUCES ENDORPHINS – Many heath professionals recommend acupressure as the process is found to release endorphins. Endorphins work in a similar way to opioids. Often referred to as "the body's natural painkillers", they help to reduce pain and produce a feeling of euphoria. Research published in 2017 showed that acupressure can stimulate the production of endorphins which helps to block the pain signals reaching the brain.
LOWERS HIGH BLOOD PRESSURE – Clinical trials looked at the impact of acupressure on patients with hypertension. During the trial it was found that blood pressure was lowered for a period of at least 30 minutes.
PAIN RELIEF – Mimicking the healing concept of an acupressure treatment, this Acupressure mat releases endorphins that block pain, relax your muscles and reduce tension to replenish your body with energy.
IMPROVED SLEEP QUALITY – This Acupressure mat helps you fall asleep quickly and naturally, easing you into a deep, restorative and refreshing sleep, so you wake up thoroughly refreshed in the morning to start your day.
INCREASED ENERGY – The acupressure points also work to stimulate and improve blood circulation. As a result, it promotes increased energy as well as a faster recovery of overworked muscles.
IMPROVES MENTAL HEALTH – Through a major study in 2015 it was found that depression, anxiety and stress can be positively impacted by acupressure.
Subjects were given treatment three times a week for four weeks and the results were positive. It was found to significantly reduce depression, stress and anxiety, in this case for patients with end stage renal disease on hemodialysis.
WILL THIS ACUPRESSURE MAT DO ANY GOOD?

We offer a 30-day return policy so if this Acupressure Mat doesn't help you unwind or reach a state of deep relaxation, you can simply return it. At the bottom of this page, you can read comments of other people who have experienced the benefits of this Acupressure Mat.
HOW DO I USE IT?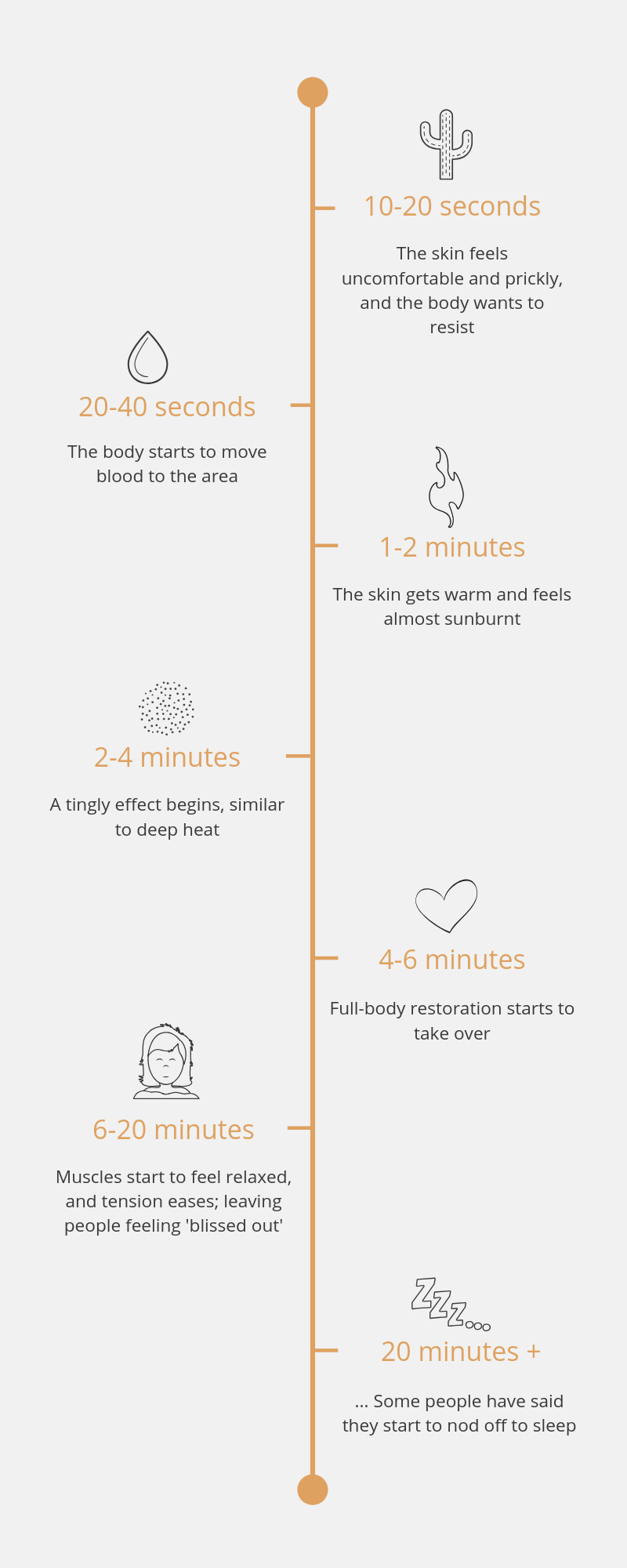 The most popular ways to use this Acupressure Mat is on the neck, shoulders, back and feet, however your entire body can benefit. Simply let this Acupressure Mat apply pressure to your body to experience a deep warming sensation, easing the muscles, relaxing the body and supporting natural restoration.
Specifications:
Thickness: 15 mm
Length: 63 x 40 cm / 24,8 x 15.6 inch
Pillow:

 

43 x 16 cm / 16.9 x 6.2 inch
Mat:

 

Coconut palm/Natural Linen
Pillow:

 

Buckwheat/Natural Linen
Bag:

 

Nature Linen