PawPaw™ Deluxe Dog Car Seat
Features
THE ONLY ONE DESIGN: Two additional bumpers on the front and back as airbags and protect the dog from sudden stops. Suitable for dogs up to 30 lbs or 2 dogs that weight less than 10 lbs each.
2 HANDLES FOR EASY CARRYING: Our portable dog booster seat has 2 handles to carry the product easily. Our dog car seat was also designed for easy transportation from the house to your car.
2 ADJUSTABLE SAFE LEASHES AND FIXING SEAT BELTS: Both leashes and belts are adjustable to fit your car and your dog's needs. The two leashes allow the dog to move freely without leaving the pet car seat.
ADDITIONAL FEATURES: Water Proof durable fabric, 2 double sided cushion mat, cushion cover that comes in breathable cotton and warm for any occasion.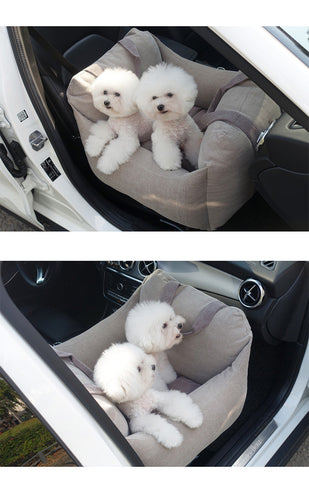 ■ Have you ever used dangerous car seats that are open in front of you?
■ Have you felt like your dog was in danger of falling from a sudden stop while driving?
- Now we propose A New Dog Car Seat with front and rear protection